Serving Dunnellon, FL Since 1978
Rainbow Lakes Heating and Air Conditioning has been proudly servicing the Citrus, Marion and Levy counties for over 20 years.
We understand that Florida boasts beautiful weather all year, which means our customers want their home heated and cooled appropriately. Air conditioning specialists are experts at detecting problems, finding solutions, and offering replacement HVAC options for homeowners.
My company was established in 1978, by Clifford Lucas. Now myself, Brian Lucas, who has been working here since 1996 is running the company.
Like my father, I believe in putting the customer first and not a thing has changed since I have taken over. We try and project our fun family run atmosphere to each customer.
This industry is always evolving with new and exciting technology and like the technology myself and crew evolve with it to be able to give each customer the best available systems, components and service.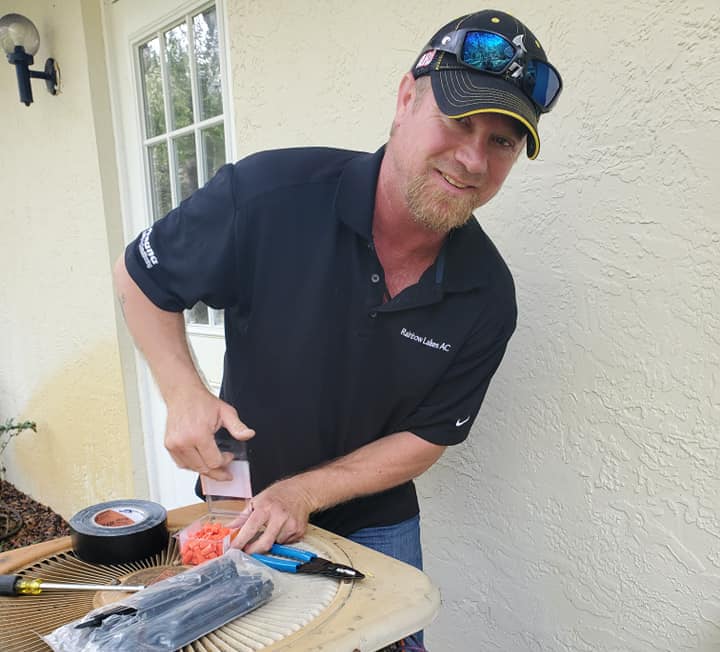 Recent Testimonials
Will continue to recommend them for the quality of work , extremely competent office staff who actually answers the phone, keeps everything on schedule and is knowledgeable of their trade …. Only sub- contractors on the entire house build that I can say this about !
Ted
08-04-2023
They showed up right on time, were very professional and did a great job. I would reccomend them to anyone.
Tim Mason
8-3-2023
I have purchased several A/C systems from Rainbow Lakes and they are always the most reasonable priced and they do very quality work as well!
James Hoobler
04-05-2023
Guys were great fast ! Work done properly, called them for questions got right back to me. Job looks good and works great! Very satisfied with your mechanics and with the company ! Thanks for everything. I look forward to having you be my go to for service and yearly maintenance.
Thomas Tofany
Inglis, FL
Completely recommend Rainbow Lakes Heating and Air. They did a great job at a fair price and everyone we dealt with was great. Cindy in the office was extremely nice and always helpful
Stacy Siracki
11-03-2022
Absolutely wonderful. Brian is very busy so he may not get back with you quickly but he cares and make every effort to get the job done. Super fair prices too in this day and age. Cindy is a joy to deal with in the office. Won't use another AC company
Evelyn Smith
08-24-2022
really appreciate the way every thing was taken care of. believe your men are top notch. I will highly recommend your company. Great job at a fair price.
Denis Ryder
Good Job, at price & on time. Pass inspection fast and no problems.
Albert Moltz
03-26-21
Extremely courteous, and professional. Great experience
John Burnworth
01-29-21
I am very satisfied.
James
01-13-2021
Thanks so much for the timely service.  Don't usually get things done within an hour of making a call.  You folds are the best!
Review from Square
11/2/2020
VERY KNOWLEDGEABLE AND PROFESSIONAL NEW THEIR BUSINESS
Margaret Castillo
10-13-2020
Everyone was great! Very friendly! Will recommend this company to anyone and everyone.
Cindy Oneal
10-13-2020
Good group answer all my questions. Thank you.
David Kreamer
07-07-2020
Workmen were excellent. Pleasant experience all the way around.
Suzanne Poucher
06-09-2020
Great service from the installers and was a great pleasure working with Brian.
Tom Petersen
Excellent job and thanks.
Gary Russell
Very satisfied. Special mention of the personnel I spoke with on the phone. I think her name is Cindy .i apologize if I have her name wrong. Very pleasant and calm disposition.
Samuel Spence
10-31-2019
It was a great pleasure to have them work for me they did an excellent job. And brian is a man of high integrity! If I have any problems/trouble with the A.C he will promptly have it remedied i have no doubts about that. I give them a 10.
Michael Seaha
10-22-2019
Pleasant staff, quick response time, efficient work- has won my loyalty!!
Linda Outten
07-17-2019
Your workers arrived on time and did a professional job . I would recommend your company as reliable,fair and hard working. Thank you The Olewnik's
Mr & Mrs Norman ,G Olewnik
07-09-2019
Have used Rainbow Lakes Heating & Air Conditioning for 9 years to keep my old unit running. They have always been fair, honest and prompt. So when my old unit finally went out, I had them install a new one. They did ba great job on short notice.
Nina Taylor
05-14-2019
The technicians done an excellent job installing the new air conditioner.
David Rohring
05-10-2019
I was pleased with the installment of the equipment. Work done promptly and cleaned up after the installment.
Jane Blair