Commercial Air Conditioning Services
Commercial Air Conditioning Service is Unique in Florida.
Unlike residences, commercial properties range in size, vary in use, and utilize more HVAC and refrigerant products. The comfort of employees and customers directly impacts their productivity, so it is important that your Commercial AC Unit is working properly.
We all take for granted the indoor climate. We expect it to be cool in the summer and warm in the winter. HVAC maintenance is important, it can be costly, but when viewed as an investment, HVAC regular maintenance makes sense. It can save the business money but cut utility bills by 40%, reduce repair costs, and prolong the lifespan of the HVAC unit. HVAC service technicians will catch any minor issues before they become major developments effectively cutting repair costs. Regular maintenance means that someone if paying attention to the HVAC unit and ensuring it works properly.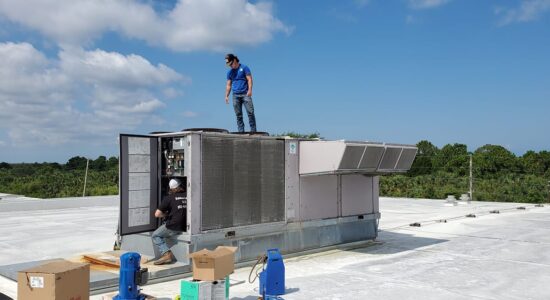 Not all HVAC problems are visible or audible, here are a few of the common issues Rainbow Lakes Heating and Air Conditioning Specialists encounter with commercial air conditioning units:
No Power on Your Commercial AC Unit
The causes for this can seem daunting, faulty wiring, tripped breakers and overheating, but our HVAC repair and maintenance technicians are experts at troubleshooting these issues and making sure they don't happen again!
Commercial AC Belt Problems
Just like on your car, your air conditioner has a fan belt that wears out. Squealing is the resounding sound alerting everyone to the impending shutdown. Our air conditioner service and repair technicians are ready for the job, we carry a variety of older belts so that our customers experience as little downtime as possible.
Commercial Air Conditioning Refrigerant Leak
Refrigerant is bad for the environment, so if you hear a hissing sound, make sure you call Rainbow Lakes Heating and Air Conditioning right away. Our HVAC experts will be right there to fix the leak and recharge the system.
Frozen Coils on Commercial AC Unit
If you are feeling hot air blowing from the vent, odds are the evaporator coil is frozen. The causes could be low refrigerant levels, poor circulation, continuous operation, or something more, when our air conditioner fixers arrive, they will get you unit back up and running.
Motor Issues on Your Commercial Air Conditioning Unit
Nothing works if the fan motor stops. The fan motor keeps air circulating through your business. It is important that you contact your HVAC Repair Company as soon as you notice the air isn't moving through your business.
Commercial AC Compressor Issues
Arguably the heart of the HVAC system, compressor problems are devastating. If your fan is running, but warm air is coming out of the vents, odds are you have a compressor problem. This repair is expensive so it is important to consult with your air conditioner service and repair technician about replacement or repair options.
Clogged Drains on Your Commercial AC Unit
All ac units have drains where algae, dirt, and debris, find a great place to collect. The resulting leaks and water damage can be prevented by monthly maintenance. The drain lines will typically need to be flushed.
HVAC service is more than repair, it includes regular maintenance, consulting, sales, services, and repair. Rainbow Lakes Heating and Air Conditioning will work with each customer and develop a HVAC preventative maintenance plan that suits them. Some will require monthly, annual or anything in between service so that business owners don't need to worry about their HVAC system. Our emergency 24/7 service is just a phone call away.
Rainbow Lakes Heating and Air Conditioning has years of experience working with local business owners. We are experienced with the following:
Split-System Heat Pumps & Air Conditioners
Variable Refrigerant Volume (VRV) Systems
Variable Refrigerant Flow (VRF) Systems
Ductless Heat Pumps & Air Conditioners
Rooftop Packaged Systems
Indoor Air Filtration Systems
Ductwork
Rainbow Lakes Heating and AC services Citrus, Marion and Levy counties ensuring residents in Dunnellon, Williston, and Sugarmill Woods and everywhere in between have the best quality HVAC heating repair services available. Warranty options for the air conditioning units vary per manufacturer, but most of them require registration and maintenance by a professional air conditioner fixer like Rainbow Lakes Heating and Air Conditioning.